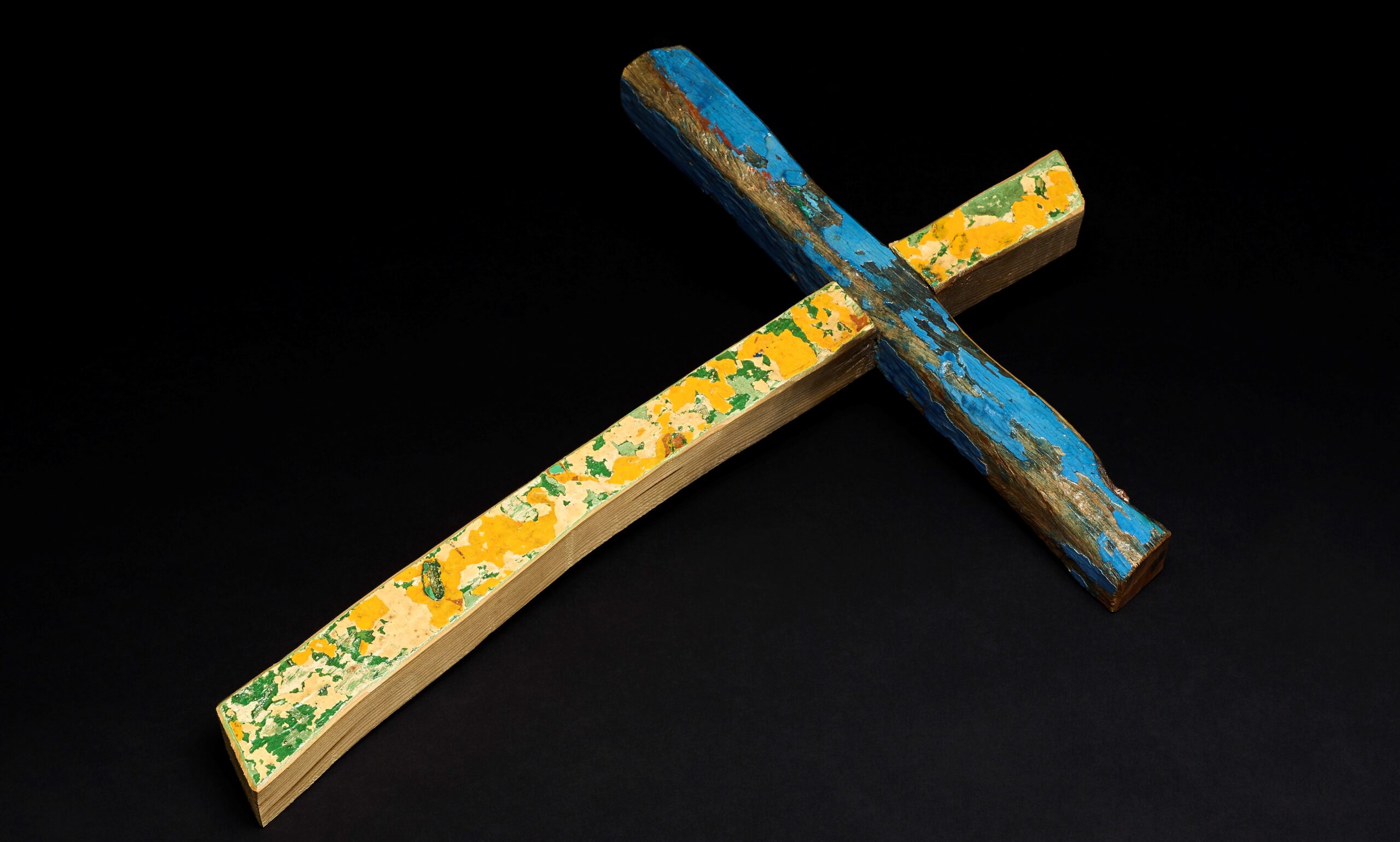 The Lampedusa Cross in London's British Museum is both a sign of contradiction and a sign of hope, as Jill Cook discovers.
On a Mediterranean holiday, it is a pleasure to sit in the sun gazing out at the brightly painted boats of local fishermen. They suggest wellbeing, community and the welcome of a tasty meal. But in a corner of the British Museum in London, the bright colours remaining on wood from just such a boat made into a cross are tinged with sorrow.
This wood comes from a boat that caught fire and sank off the small Italian island of Lampedusa, not far from the Tunisian coast, on 11 October 2013. Its cargo was some 500 people seeking sanctuary in Europe. 311 of them lost their lives on that fateful night.
Throughout history, people have set out on dangerous but hopeful journeys, leaving their homes to escape war, genocide, persecution, climate change, poverty and famine. Some reach better lives, many perish.
In the powerful words of Pope Francis, 'the Mediterranean has become a graveyard.' Nowadays, their stories appear as trails of sorrow across the media and generate vehement debate.
The movement of thousands of people across land and sea brings change to both their original communities and to their destinations. Acquiring objects that would act as access points to their story is important for the Museum, but finding something amid the destitution that relates directly to these historical events and can speak to future generations is challenging.
Early in 2015, a BBC World Service broadcast provided a lead…
Journalist Emma Jane Kirby returned to Lampedusa to follow up on a news story about the October 2013 disaster that had grabbed world headlines because of the shocking loss of life.
On her return visit, rather than telling of unscrupulous people smugglers, politics, and inadequate resources, Emma Jane focused on how the islanders rescued 155 people and, without waiting for authority or funding, compassionately fed and clothed them and buried those that had died, despite their own limited means.
Among her interviewees was local carpenter Francesco Tuccio who met Eritrean and Somali survivors in his church.
Moved by their desperate plight but with nothing but his carpentry skills to offer them, Francesco decided to make each person a small pendant cross using wood from the wreck.
These were gladly accepted as tokens of welcome and compassion, reminders of the hope of new life amid the destruction. Earlier in the year, he had made a larger cross, chalice and plate for a penitential Mass on the island led by Pope Francis. For me, listening as a British Museum curator, the crosses were objects that could preserve the story, reveal its many aspects and attract attention.
Finding and contacting Francesco among Lampedusa's small population was not difficult. He readily agreed to make a cross for the British Museum, saying he had never expected such a commission, which was to be the first of many. While I was still trying to work out how to bring the work safely to London, Francesco simply popped it in the post knowing that once the cross arrived in the Museum, its status and symbolic importance would increase in significance and intensity.
Although the cross is simply made by fitting two pieces of wood together with a standard carpenter's joint, Francesco realised that sending these crosses of upcycled wood to museums, churches and community organisations worldwide might help shake people from what Pope Francis called the 'globalisation of indifference'.
They serve as a reminder of all the histories that are lost and of the thousands of people who are not otherwise commemorated, as well as a major moment in world history.
The British Museum's wooden cross is made from pieces of a boat. The vertical piece is yellow and green and the horizontal piece is blue. The vertical and horizontal pieces are joined with a cross halved joint. The cross piece retains scuffed blue paint on the front, upper and lower surfaces. The front of the vertical section has layers of damaged paint.
When the cross arrived, I showed it to the Museum's then Director Neil MacGregor who, without hesitation, accepted it as the last acquisition of his tenure. Placed on display near some of the Museum's great treasures of brilliantly fashioned gold and gems, it held a commanding position through its simplicity and direct message of devastation and hope: "its arms outstretched/ to offer comfort/ to the wave washed driven to the shore", as Nicholas Murray so beautifully put it in his poem 'The Lampedusa Cross' published in The Yellow Wheelbarrow by The Melos Press (2019).
At the start of Refugee Week in 2016, the cross was loaned to St Paul's Cathedral where it stood its ground on the high altar beneath the great dome.
At that time, I was working with Neil MacGregor on the radio series, books and exhibition Living with gods. The story of the cross was brought into each of these elements, and with Francesco's permission, we displayed it with little boats made from upcycled bicycle mudguards packed with burnt matchstick people called 'Dark Water, Burning World', created by Syrian born artist Issam Koubraj in a collaborative response with poet Ruth Padel.
The cross and Koubraj's boats will now form part of a British Museum Spotlight Loan tour, Crossings: community and refuge, going to eight partner venues around the UK from the end of May 2021 to February 2023. Each venue will develop its own discussions around the objects, reflecting the situation of those who have given up their homes, lost all their possessions and risked their lives in unseaworthy boats to find a better future.
It also helps turn the public spotlight on those whose homes, lives and futures are unsettled by the trauma of humanitarian disaster and whose communities feel threatened by the arrival of strangers with different languages and customs. "And their stories are our stories", as Ruth Padel puts it in her poem 'Lesbos 2015', which is displayed alongside the cross and boats.
I took the cross to its first venue in Coventry Cathedral at the start of Coventry's UK City of Culture year, 2021. It was a poignant setting in the modern church, that stands next to the ruins of the medieval cathedral destroyed by bombing in 1940, where the charred remains of roof timbers that fell to form a cross stand witness to the agonies of war and where the clergy wear crosses based on roof nail crosses made from the ruins.
The symbolism of Coventry's nail crosses, like that of Lampedusa's wooden cross, is all about reconciliation, taking responsibility, and trying to act for the dignity of all who share the world.
At the Museum, it is also about thinking how best to represent diverse and developing communities, engaging with them to express how cultures mix and change in making the history of the world. The contribution of our partners around the UK will help to develop such conversations and guide future transformations of the Museum.
The Lampedusa Cross forms part of the British Museum exhibition, Crossings: community and refuge. It is on display in The People's History Museum, Manchester until 5 September 2021. See the schedule of other galleries in the UK displaying the exhibition over the next two years here.
*This is a slightly edited version of an article that was originally published by the British Museum.
Like what you've read? Consider supporting the work of Adamah by making a donation and help us keep exploring life's big (and not so big) issues!