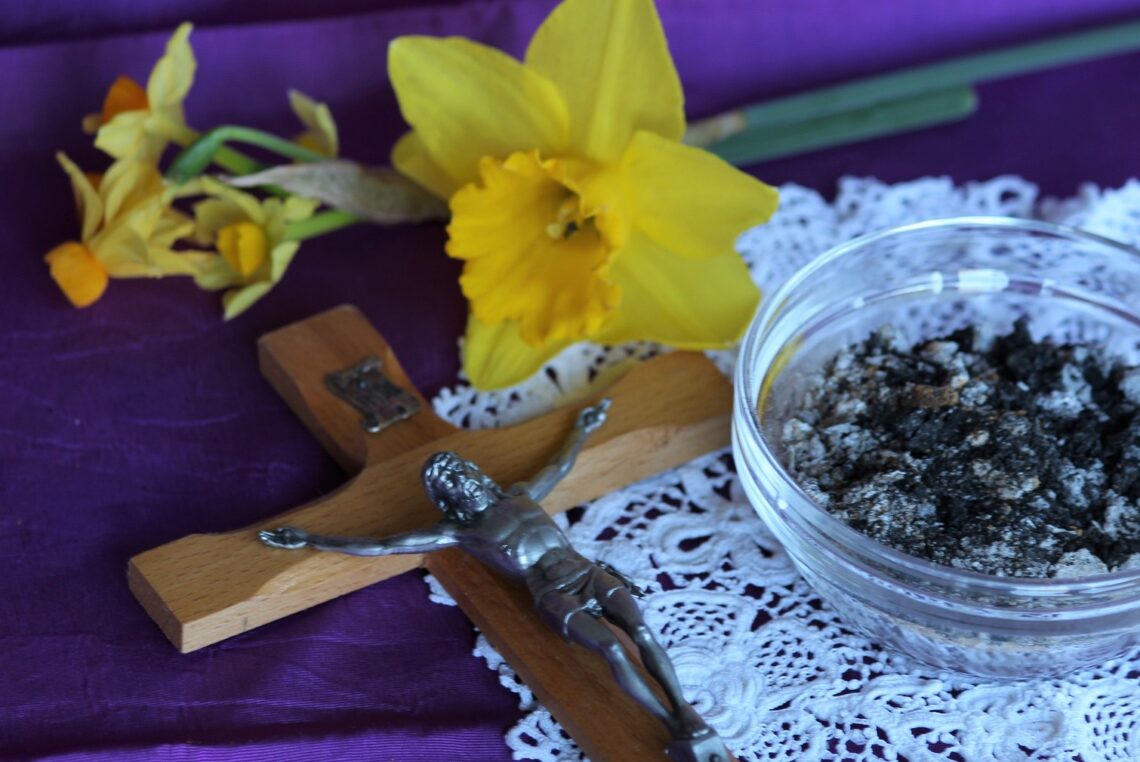 The Christian season of Lent is as much about joy as it is about self-denial, believes Lisa Fraser.
Lent is starting and it's probably my favourite season of the year. It's not Christmas, with its lights and tinsels. It's not Easter with its chocolates and egg hunts – although I love it when it comes round. Lent is my favourite season because it's all about the anticipation, the preparation: I'm getting ready for a greater gift … and I'm really excited about it.
I grew up in a non-Christian environment, but in a culturally Christian country. Put simply: Easter was a feast, with lots of chocolate, but I had no idea what we were celebrating. I remember being puzzled one year when I received a pair of trainers in an egg basket. It's all part of the clever trick by which France's secular tradition explains away what is happening at Easter. 
Why do we give chocolate eggs and sometimes other gifts at Easter? Has it anything to do with the Resurrection of Jesus? Not at all, secularists say. it's simply that flying bells bring chocolates and other gifts to well-behaved children. Yes, just that, flying bells. And they claim religions say silly things … 
As a child, I found it confusing to receive gifts which I didn't ask for, which I didn't seek, and for unknown reasons. On that day, I lost all interest in Easter. 
Flash forward. Many years later, when I converted to Catholicism, I remember the first time I 'received ashes' on the first day of Lent: a priest drew a cross with them on our forehead, saying "Remember that You Are Dust, and to Dust You Shall Return". That winter was a particularly cold one as Lent began, and this only added to my apprehension: "What is Lent like…?" I asked myself nervously.
The word supposedly comes from the Anglo-Saxon word 'lencten', which meant spring (i.e. the season). In Italian and in French, we call it Quaresima and Carême, coming from the word forty (quaranta, quarante). The forty days of Lent refer to the forty days that Jesus spent fasting in the desert, as described in the Bible. 
It's a symbol of inner conversion, a time where we find ourselves through a deeper dialogue with God.
Lent is not so much a set time in the diary as a personal journey. There is certainly an end point – Easter! But it's also about changing our heart and mind, by going back to our core essence. It happens every year, because sometimes we repeat the same mistakes, or because we're facing new challenges in life.
Lent starts in winter, which is meaningful: like the seeds, we go into the ground, recollect ourselves, gather strength, and start this process of growth until we're ready for spring. We are spiritually buried to rise to new life.
Some people use the metaphor of the seed, some prefer the metaphor of the desert: ultimately, it's about setting time aside to discern about Life, with a capital L, the real Life truly worth living. Stepping back from the busyness of the world helps re-assess our priorities and consider what truly matters. 
It's also about looking at our life specifically. Lent is not an abstract idea: it's about our personal growth, to be better followers of Jesus Christ. It requires small, practical, and personal steps. The first step is to turn back to our personal relationship with God.
We're called to look at our life in a very honest way: where am I going? What are my worries, where am I experiencing darkness? Where am I happy and helpful to others? 
This is the reason why there is not a single recipe for a successful Lent. It's up to each one of us to identify what brings us closer to our ideals, and how we can get to this place of faith, hope and love.
One of the key pillars of Lent, alongside prayer and discernment, is the practice of fasting. In the 80s, the mainstream 'well-being' culture popularised the concept of fasting, turning it into a weight-loss device. Lent is not about this type of fast, and it is not a diet! 
Some people who don't struggle with excessive attachment to sugar can have the most fruitful Lent without sacrificing their daily chocolate bar. The sacrifice that we freely choose to make in Lent comes from a place of discernment. 
Contrary to the popular imagery, we're not forced to give up chocolate.
The sacrifice we consent to, at an individual level, comes from our understanding of what enslaves us.
We're called to reflect upon what takes up too much space in our mind, or too much time in our life. This is why there is not a single way of doing Lent. It can take many forms: for instance, the Pope has suggested fasting from social media or from gossip.
Developing the habit of making small sacrifices is a way to be ready for when life requires us to make bigger ones. As a child I learn to say no to an unhealthy habit like sugar; then, as a young adult, I learn to say no to alcohol … Probably, I will be better equipped to say no later in life when I face more complex decisions, like stopping a relationship or turning down a job possibility which I can see are not right for me. Saying no is like a muscle we choose to build up and it strengthens us to embrace many other more positive options which might come our way.
Saying no can be hard. The consumer society nudges us to say yes as much as possible: invites, events, new TV series, new obscure lifestyle trends. Peer pressure can be intense: either we're in, or we're out. 
Lent is different: it calls us to reflect individually about what we're saying yes to. Will my choice lead me to happiness? Or are there other ways to do and to be? Lent can be fulfilling because it encourages us to pause and think. 
At Lent, we're called to identify what consumes us, and to free ourselves from it.
I often realise how greed and envy have crept in my life from one year to another. I wouldn't describe myself as a particularly greedy person, but I can catch myself comparing myself to others, and looking if the grass is greener elsewhere.
Growing in awareness at Lent, through moderation and discernment, forces me to look at my motives: why am I thinking of starting at this gym club? Is it to look nicer than my friends, or is it because I want to be healthy? Why am I seeking this new job: is it to boost my ego, or because I'll be happier in another company? 
Moderation is a mindset which applies to our entire life – not just to food. Lent reminds me to moderate my appetites. When I know that I have enough to satisfy my needs and don't crave for more, I become more grateful. I rejoice in what I have, rather than seek more, better, bigger. Self-restraint helps build a positive mindset of contentment, and detachment.
This mindset is deeply counter-cultural, as it goes against the constant injunction to buy more, to do more. Yet, it can have a positive impact on our communities, and this is why it sometimes resonates with other secular movements. The philosopher Pierre Rhabbi, in his essay "The Power of Restraint" ("Finding Joy through Moderation" would be a more accurate translation of the original title, "Vers la sobriété heureuse"), theorised how detaching ourselves from excessive consumption can help us find inner peace, and build more harmonious local communities. 
Restraining ourselves for our own good, and for the good of others, is linked to the movement of (re-)discovering our inner freedom. In this sense, Lent can be seen as a joyful, bright season. The Bible actually commands us: "when you fast, don't be like the hypocrites, with sad faces." Lent is not here to spoil the fun. It's not a time for doom and gloom. We are just exploring new aspects of ourselves, and rediscovering the true source of our joy.
Over the last decades, the well-being economy has become one of the biggest sources of profits. It promises that we'll be happier, slimmer and wittier if we spend a few more pounds on this food supplement, or if we buy that sports gear. Christian joy is different. It doesn't require us to spend money. All we're asked to do is to face ourselves, in dialogue with God. 
It's about discerning in prayer why we do what we do. The same behaviour can be either sterile or fruitful, depending on our motivations. For instance, spending hours on social media can be a source of anxiety, isolation and frustration. But social media can equally be the best way to keep in touch with our family and friends abroad, bringing deep joy and fulfilment. 
Yet we live busy lives, and it's easy to be distracted from prayer and meditation. Facing ourselves can also be scary if we're unsure of what we will find inside ourselves.
The culture of entertainment encourages us to distract ourselves from our thoughts and feelings: Lent offers an alternative, by encouraging us to face ourselves. 
But Lent doesn't stop here: awareness is just the first step towards personal growth. After the first two movements (prayer and fasting), there is a third movement, which is a call to action. The greatest command in the Bible is to love our neighbour: Lent is a time to put it into practice. 
Ideally, freeing ourselves from 'something' through fasting should free our mind and energy to be more active in love. 
The fact is, there is no 'good Lent' or 'bad Lent'. It is ok if we couldn't find a more creative idea than giving up sugar – it's the effort that matters. But if possible, we should try to reinvest the energy we're saving through our fast into something that is fruitful. For instance, if I stopped drinking coffee, I am encouraged to use the money saved on coffee shops to make a weekly donation to a charity, and to practise patience with my family and colleagues. 
Ultimately, fasting should lead us to be more generous towards others and towards life. Love can grow through making small donations to a charity. It can grow through extra prayers – for instance, this year, the Pope is asking us to be united in prayers for Ukraine. It can also come from volunteering to help the homeless  or helping children do their homework.
The gift of myself can take many forms, but it's the ultimate aim of Lent: a time to be present for others. 
The observance of Lent itself is a way to feel more connected to our fellow Christians. Lent makes me feel connected to the two billion people who are observing this season throughout the world at the same time. I also enjoy the dynamism of local parishes at this time of the year, with a renewed commitment to prayer, study or WhatsApp groups. 
It is a great opportunity to get to know each other more deeply: we share about our personal resolutions; we support each other to keep going when sacrifices get tough. We walk the same walk until the final reward – the celebrations and joys of Easter!
Sometimes, Lent can also be a bridge to open up to friends and colleagues who have different faiths, or none. For instance, if I am cutting down on alcohol during Lent, or if I fast on Good Friday, I can explain the reasons I'm acting this way. This is not strictly a Lenten requirement, but in my own experience, colleagues and friends mostly react positively and one can grow closer to them – so long as we respect their freedom. 
Sharing about our faith can be awkward at the beginning, but this step of explaining our convictions strengthens our identity as followers of Christ. Faith is demanding, but it is worth it if we believe it will lead us to truth, freedom and joy. 
Greater joy is the ultimate goal. Lent is not a time to feel miserable and to withdraw. We believe that some well thought-out, well prepared sacrifices can help us better enjoy the good things of earth. God created this world 'and it was very good', and we are called to rejoice in his creation. As the Bible says: "Always be glad in the Lord: I will repeat it, be glad."
Like what you've read? Consider supporting the work of Adamah by making a donation and help us keep exploring life's big (and not so big) issues!