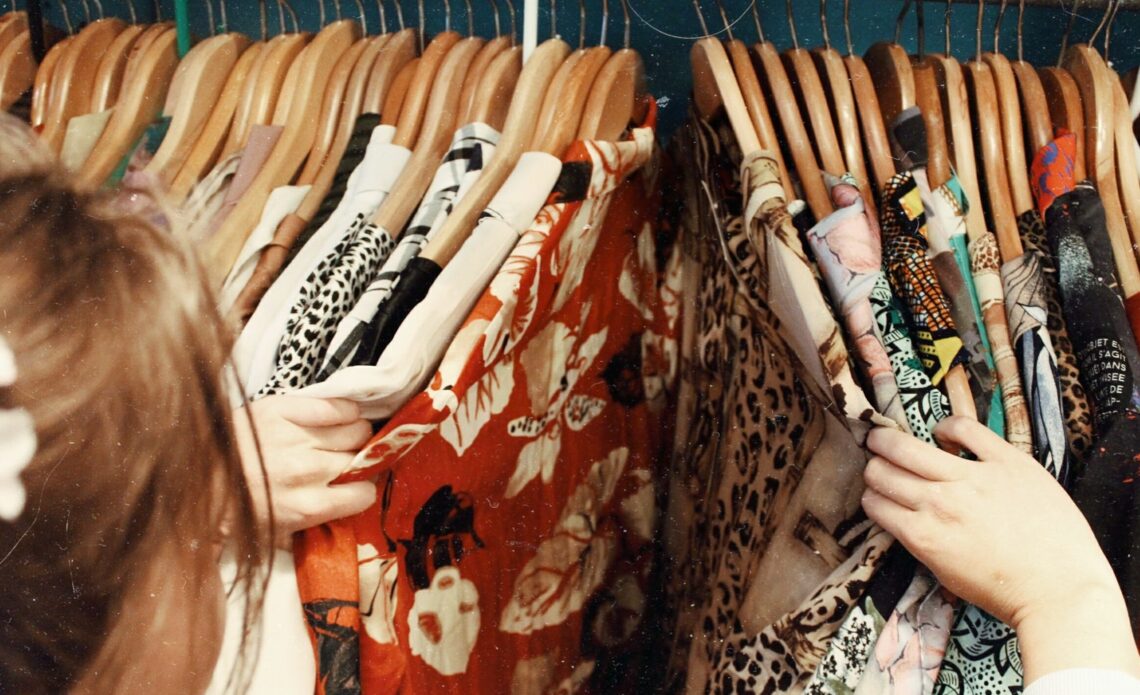 Emily Glena reveals the ethical dilemmas involved in a shopping trip to the UK High Street.
There's something so enticing about shopping – I mean hands on, rummaging, comparing, trying-it-out shopping, that no elegant website can match.
In July 2021, The Guardian reported that the high-street fast-fashion retailer Primark had made £1.6bn in profits in its third quarter – an astounding £1bn more compared to the same period in the previous year. In fact, according to the British newspaper, that profit margin was three percent higher than the profits made in the pre-pandemic sales period two years prior. This was attributed, by Primark's owner Associated British Foods, to the rise of customer demand in the first weeks after it had reopened its doors to the public.
Despite many high-street stores going into administration due to a vast increase of online sales and home deliveries, Primark is notably absent from the online market. It seems the lure of bargain clothes is irresistible to the nation and has contributed to Primark's fully-fledged high-street status. And who can blame them when the store was selling tops for as little as £2 each?
With the rising costs of living, it has become more important than ever for people to save money where they can.
For many people, it's a choice between buying clothes at a low cost, or not buying them at all.
Clothes are an essential part of us, not just for warmth, but as a way of marking our identities to the world. They act as our skin, and a way of broadcasting our personalities. It may seem superficial that material items we own can influence our self-esteem but, in reality, clothes can often be the first impression we have of people we meet. They can either set us apart from others or, in contrast, help us fit in. Therefore, it makes sense to want clothes that we love but are also inexpensive.
If we choose to wear a particular brand of clothes, we are, in essence, representing that brand. Expensive clothes from big-name brands can become a status-symbol. But, for many, buying clothes from these expensive brands is not an option. Instead, people are drawn towards the economical prices the high-street can offer.
But while the savings from these items can help to line our pockets, the price of these bargains is being paid elsewhere.
On 24 April 2013, the eight-storey Rana Plaza garment factory, in Dhaka, Bangladesh, collapsed, killing 1,134 people and leaving more than 2,500 others with serious life-changing injuries. The day before the incident, the workers of the factory had noticed cracks forming on the walls of the building. Despite the concerns raised, the workers were ordered to go back to work the next day with the threat that if they didn't return, they would not be paid. Leading high street retailers were among the brands which sourced their products from this factory.
Yet, incidents like these are not isolated. In November 2012 – just months before the Rana Plaza collapsed – Tazreen Fashion, another garment factory in Dhaka, suffered a horrendous outbreak of fire which claimed the lives of 117 workers inside. When this fire was being investigated, clothes of other fast-fashion companies, such as Edinburgh Woollen Mill, were found inside the building with their labels attached.
When the BBC filmed the documentary Dying for A Bargain for its Panorama programme in 2013, the film crew captured footage of the workers in these factories in Bangladesh working 19-hour days in cramped conditions, and being locked by guards inside the building in which they were working.
In another BBC documentary Blood, Sweat, and T-shirts, from 2008, six young, fashion-loving Brits were sent to India to work and live in the garment factories, and to pick cotton from the fields. The jobs they were required to do involved intensive physical labour producing hundreds of garments during long working-hours in poor working conditions. Workers there were paid as little as 115 rupees a day (equating to, roughly, £1.50), or around 10p an hour.
The workers experienced extreme poverty, and either lived in three-generational houses in squalid conditions or slept on the floors of the factories. Without any time or money, the workers were not able to go out and get an education and were stuck in these awful conditions in order to be able to provide food for their families. Many of the high-street retailers we see today benefit from this exploitation of workers. Legally, these working conditions would not be allowed in the UK, which is part of the reason why these retailers may be choosing to outsource their labour to countries where these rules are not regulated.
War on Want, a UK-based organisation which fights to abolish the degrading conditions of sweatshops, claims: "The global garment industry employs up to 60 million people worldwide and makes billions in profits each year. Yet most garment workers, mainly young women, have never benefited from this wealth." Stacey Dooley, one of the Brits in the Blood, Sweat and T-shirts documentary, became a campaigner for War on Want after her experience.
Environmentally, the fast-fashion industry contributes the second-highest amount of pollution to the planet – just behind the oil industry.
To create a single pair of jeans, it takes 20,000 litres of water to produce the cotton needed, and with an approximation of 80 billion garments made per year, this has a vast impact on the planet.
According to a study conducted by the retailer Marks and Spencer in 2016, the average British person owns 152 items of clothing, yet only wears 44% of these on a regular basis.
With the huge quantity of clothes being produced per year, it comes as no surprise that disposability has become a worldwide problem. As Lucy Siegle, quite rightly, points out in her TED Talk from 2014, fashion is no longer about the four seasons of the year, but, instead, there are now 52 seasons of fashion in a year. This expectation to always keep up with trends leads to an extreme increase in people buying clothes that they may not necessarily have needed or even wanted.
Every week, retailers like Primark have new stock in their shops. Once the stock from last week goes, it's gone forever. This type of marketing leads to a consumer mindset of panic-buying an item because of the fear of the limited time frames in which it can be bought.
Buying from low-cost retailers has led to consumers treating clothes like litter. If an item of clothing breaks or they no longer like it, they can chuck it away because it costs so little. Consumers feel a disconnect from such garments. This throwaway culture has a significant impact on the environment.
In The True Cost, a documentary film by Andrew Morgan produced in 2015, it is stated that the average American sent 38kg of clothes into landfill each year, equating to 11 million tonnes from the US alone. As most of the textiles that go to landfill are non-biodegradable, many of these items will be there for hundreds of years producing gases which are harmful to the planet.
Primark has, in recent years, made some positive steps towards a more sustainable and safer environment for both the workers in the factories and the planet. It has pledged to halve its carbon emissions by 2030 and promised to make all its clothes recyclable by 2027. It has also signed the Bangladesh Accord on Fire and Building Safety as well as The Cotton Pledge. These are all promising signs that things may change for the better in the future.
However, the retailer has done little to increase the living wage for the garment factory workers who produce its clothes. It seems that, while moving in the right direction, Primark still has a lot of work to do when it comes to both its environmental impact and tackling the poverty caused.
So, what can we do, as consumers, to help limit the cruelty of our wardrobes? The most important thing is that we can vote with our pockets.
The Primark business model exists because consumers continue to buy their products. The solution is within grasping reach. With the number of garments which have already been made, we have more than enough to be able to clothe the world and reuse everything which has already been produced. Learning to fix the items we already own can be an incredibly valuable skill and can save many of the items we deem as 'broken' from being sent to landfill.
It's important to take into consideration that trends are fickle, and to keep up with them is certainly an expensive way of living. What's in fashion one week, may not be the next. Instead, it is worth considering having staple items in your wardrobe that you truly love regardless of what's trending currently. It's also important that your clothes are built to last. Clothes from cheap retailers tend to get damaged more easily and, therefore, aren't actually sustainable. If you can, investing in higher-quality items will not only save you money in the long-run, but will encourage you to look after the clothes you own.
A capsule wardrobe is a fantastic way of limiting consumption, whilst also maximising the number of outfits which individual items can be styled with. Rather than buying from retailers who use sweatshops, buying clothes from charity shops is another great way of reusing what has already been made, while also knowing that the money you spend goes to worthwhile causes.
Of course, while charity shopping is a great way to buy clothes cheaply and ethically, it can be time-consuming if you're looking for a particular product. In this case, apps like Depop or Vinted have search functions which allow you to easily find the clothes you want to own. The items that are sold on these apps are second-hand which makes it easy to see where your money is going. Any item that breaks, or that you don't love anymore, can either easily be fixed very cheaply, or you can recycle or donate them so that your clothes don't end up in landfill.
It's not easy to be ethical while shopping on the high-street, but companies such as Marks and Spencer and White Stuff are committed to using Fairtrade in order to support the workers making their items by paying a sensible living wage and, thus, enabling the workers to have access to education. It's not the perfect solution from an environmental standpoint, but you can at least be sure that the money will be fairly distributed to the workers who made the items you buy.Fast fashion is something that does not need to exist in 2022; there are plenty of other options. The next time that you find yourself in the high street and feel the urge to buy some clothes, perhaps consider your local Oxfam!
Like what you've read? Consider supporting the work of Adamah by making a donation and help us keep exploring life's big (and not so big) issues!