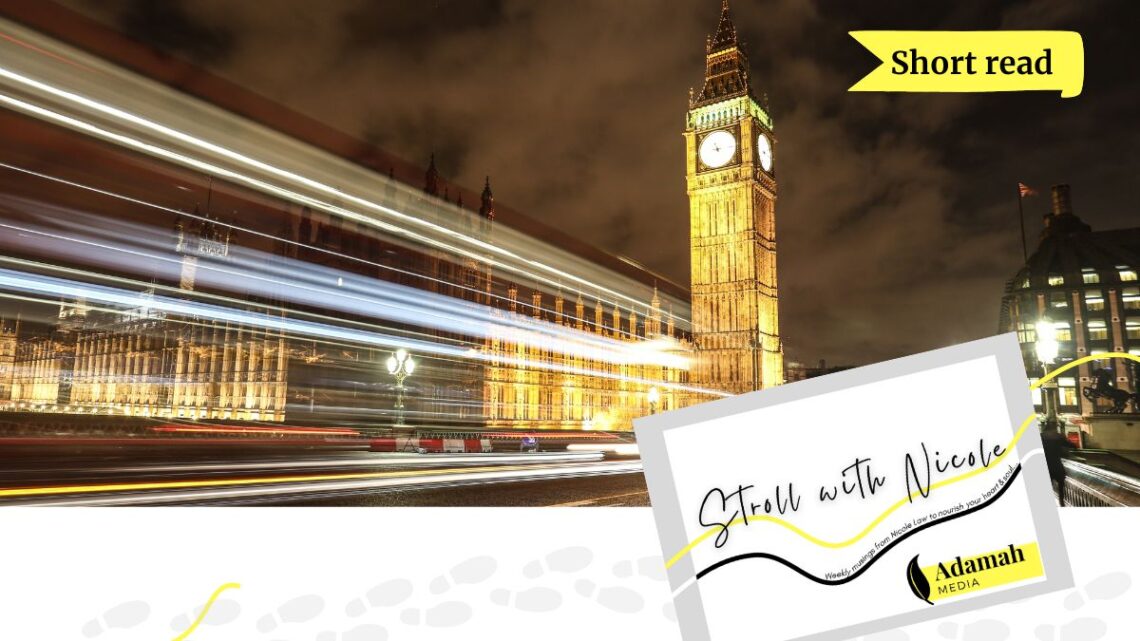 Nicole Law revisits her old haunts and sees life with a different perspective.
"Do you ever feel like a part of you has been stuffed into a suitcase and is slowly suffocating?" 
– Fanny, The Pursuit of Love 
Returning to London, the place where I spent a good three years of my life, feels both nostalgic and cathartic. 
My visible excitement at seeing familiar street names, the glow of the Underground sign, and the shop front of Pret A Manger brought me back to the younger, more carefree and less self-aware version of myself. 
There will always be a part of me that has been informed by my time here. The part of me that puts her hands in her pockets and focuses on the road ahead. The part of me that sometimes takes risks. The part of me that engages with others with the intention of widening my perspective. 
These streets hold many memories for me and walking around my old university campus evoked specific recollections – registering for my courses, huddling in the library, eating lunch at the fourth floor cafe or walking bleary eyed to a morning tutorial. 
There will be an enduring sense of connection of my present experience to this time of my life. A period which others may not fully understand nor identify with. A period which is not shrinkwrapped and stowed away for deep storage. 
I used to think a neat compartmentalisation of life would help to draw a clean line between life during uni and the 'adult' life that lay ahead. However, part of it always bleeds through. And perhaps that is okay. 
I see London with new eyes but with old pangs in my heart. 
Each place opens the floodgates of memory and nostalgia and the emotions wash over me like a tide.
Watching my good friends build a life here fills me with a lot of joy too. Witnessing the business of daily living and what it means to create a home with someone you love gives me hope of what is possible and I have nothing but prayers and love for the adventure they are on. 
I think about my restless younger self and realise that as the years have gone by, I desire less excitement and novelty and long instead for a sense of stability, whatever that looks like. 
I am shocked to discover that I now find myself excited by household appliances, trying new recipes and procuring implements to clean my living space.
I think I've arrived at that stage of life where, as Richard Rohr says in his book Falling Upwards, I know what's in my house and now I wish to build it, to make the space liveable. 
The space we inhabit is uniquely our own. We decide on the colour of the walls, the sofa we choose for our reading corner and the books on our shelves.  
The impromptu decision to watch the hit musical Hamilton reminded me of how I was more spontaneous in my younger years. That's something I'd like to reclaim and do more of in the years to come. 
I resonated with many of the songs (it's an excellent production!) but particularly with one – Satisfied. In the lyrics a line jumped out at me: "A woman like you can never be satisfied," and it struck home. 
Hamilton is attracted by the allure of power and prestige, all the shiny pretty things which command respect in the minds of men. The same goes for Angelica, his sister-in-law. 
There is the relentless struggle to prove one's worth and capacity but the race can tire us out. What do we truly want and why? 
Hamilton says,' there's a million things I haven't done, just you wait, just you wait…' and I couldn't identify more. There's a lot I haven't done or want to do, but maybe the invitation is to find joy in the present moment and relish its simplicity instead of hankering after the grander scheme. 
And the beauty of this grand scheme is that usually things don't go the way we intend them to. Certainly not with the British railway system.
I'm accustomed to rail strikes and retimed trains and perhaps the unpredictability of my lived experience here has reminded me to expect disruption and to take a leaf from the British songbook. Just  'Keep calm and carry on', as seen on mugs, t-shirts and World War II posters in the Imperial War Museum. 
The best welcome back to London was news of impending rail strikes and last minute changes to my train schedules. 
Expecting change and reacting accordingly under the circumstances has informed some of my approach to life now.
I've been thrown some curveballs and fallen down the ladder from time to time, but the enduring philosophy has been to dust myself off and keep moving. 
Even if the train I'm on has been delayed or switched to a slower track, I can take comfort in knowing that the train is still in motion. Watching the scenery change outside as the train passes rolling fields and industrial towns reminds me that the key to living each moment is to embrace change and allow the forward surge to carry you along. 
Having rediscovered my love for reading late last year, bookshops have once again become a safe haven for me. So I have fond memories of hanging about Waterstones and Foyles and browsing their shelves. 
I came across Daunt Bookshop in Marylebone and was impressed not only with the Edwardian-era building (complete with stained glass and sloping roof) but with the quiet intimacy of the space. 
A passionate proponent of e-books (the library reading app Libby has been a close confidante and is privy to my literary taste), thumbing through volumes of poetry and fiction rekindled old passions and my penchant for physical books. 
The written word is a reminder that there is more to the present life than replying to emails and writing papers. 
The necessity of everyday living involves writing of a very particular kind. Reading about everything from art to psychology to the immigrant experience expands our perspective to see and understand more and to appreciate multidimensionality. 
I loaded up on plays, poetry, fiction and memoirs. Hamilton was known to 'write like his life depended on it', and on this trip writing short poems in the odd moments in between travelling from one place to another has filled me with much joy too. 
I'm grateful for the return and the familiarity of this place I've called home. Before I left London, I noted that Maya Angelou said, "You only are free when you realize you belong no place – you belong every place – no place at all".  
I don't belong to a singular place, I've got bits of myself in different places. Each piece is a kaleidoscope and all I need to do is look in. 
Like what you've read? Consider supporting the work of Adamah by making a donation and help us keep exploring life's big (and not so big) issues!
Nicole Law is a writer for Adamah Media, who writes a column entitled 'Stroll with Nicole'. She is an educator based in sunny Singapore. Her calling is not only to mould young minds, but also to nourish souls through her faith-based podcast. She has a soft spot for burnt cheesecake, Dean Martin and swing dance. When she's not engaging with her listeners, she's planning new conversations for her podcast - she believes in the power of conversations and the beauty of our relationships.